MLCB Loan Information Report and Licensed Moneylenders
Published 28 February 2023. Contributed by Credit Bureau Singapore.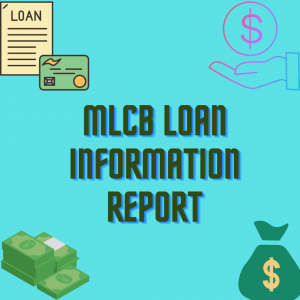 Loans can come in helpful during times of emergency especially when you are in urgent need to pay off a large sum of bills. Besides common lenders like banks and major financial institutions, you are also able to apply for personal loans with Licensed Moneylenders (LMLs) in Singapore.
Introduction to Moneylenders Credit Bureau (MLCB)
Commencing 1 July 2021, Credit Bureau Singapore (CBS) has been designated by the Ministry of Law (MinLaw) as the new operator of the Moneylenders Credit Bureau (MLCB).
MLCB is a central data repository on borrowers' loans and repayment records with LMLs It helps lenders make more informed decisions when considering loan applications by prospective borrowers, and helps borrowers better manage their loans and financial situation. The MLCB does not collect data on borrowers' bank credit facilities or bank deposit information, nor does it make lending decisions on behalf of LMLs.
What is a Loan Information Report?
Your loan information report is a record of your loan payment history compiled from different LMLs. As these LMLs are required to check your loan credit report to assess your creditworthiness prior to approving the loan, a good loan repayment history or lower aggregate loan cap will make it less challenging for you to qualify for loans. A list of updated LMLs in Singapore can be found here https://rom.mlaw.gov.sg/information-for-borrowers/list-of-licensed-moneylenders-in-singapore/
Licensed moneylenders, borrowers, MinLaw, and the Registry of Moneylenders have accesses to the reports.
A record of your active loans' information as contributed by LMLs, includes the following information:
Borrower's Personal Data and Employment Information
Exclusion List
Details of Active Loans with the LMLs
Loan Type and Loan Tenure
Total Outstanding Balance
Status of Guarantor or Surety of Loans
Repayment History and Payment Status of Each Loan
Once the LML has verified that you have fully paid off your loan, the LML will proceed to notify MLCB to close off the account. Closed accounts will be removed immediately from the report whereas open accounts will continue to be displayed on your report.
The Loan Information Report cost $0.50 after GST and consumers can easily purchase the report from the MLCB website, MLCB office or through Credit Counselling Singapore. By reviewing your report regularly, it allows you to be aware of any incorrect information that is found on your file.
Borrowing Guideline for unsecured loans
The guideline set by the Ministry of Law dictate how much a borrower can borrow from a licensed moneylender for unsecured loans.
A Singapore citizen can borrow up to $3,000 if their annual income is less than $20,000 and can borrow up to 6 times their monthly income if their annual income is $20,000 and above.
For foreigners staying in Singapore, if their annual income is less than $10,000, they can borrow up to $500 only. For those with annual income between $10,000 and $20,000, they can borrow up to $3,000 and if their annual income is at least $20,000, they can borrow up to 6 times their monthly income
Borrow Responsibly
Borrowing beyond your means can leave you struggling financially as you go further into debt. Consider all the other existing loans that you have and understand your financial standing before applying for additional loans. Do not borrow for the sake of repaying another debt as you may risk falling into multiple, bigger debts which makes it even more difficult for you to repay in the future. It is also important to do ample research and clear any doubts with the LMLs before you agree to take up the loans.
For more information, check out the MLCB website at www.mlcb.com.sg. Should you have any questions regarding your Loan Information Report, call us at 6335 5897 or send in an inquiry to mlcb.cs@creditbureau.com.sg.
Lastly, be sure follow and like MLCB Facebook page @MLCBSG for more useful content and tips to maintain a good credit reputation!